Art Of Islamic And Indian Worlds Including Oriental Rugs And Carpets
The Donegal company was founded in 1898 by Scottish textile manufacturer Alexander Morton. The Arts & Crafts Movement advocated the use of vernacular traditions and local materials and before establishing Donegal Carpets, Morton had first established a carpet crafting house on the west coast of Ireland and put to practice the techniques of the Donegal people who had been working with wool for generations. The company had a wide and important clientele for whom they wove private commissions, of which many remain in Britain's grandest houses including, Dublin Castle, the Royal Pavilion of Brighton and Eltham Palace.
By 1901 a number of the designs produced by the company had begun to simulate the designs of eastern fabrics as well as 'Turkey' carpets but which were relatively generic in their interpretation, (Malcolm Haslam and David Black, Arts and Crafts Carpets, London, 1991. p.102, fig.65). Unlike those examples, the paired 'leaf and compartment' lattice design of the present carpet is derived from a recognisable 17th century Mughal carpet fragment, north India, acquired by George Hewitt Myers in 1951 and gifted to the G W Textile Museum. Washington, R63.006. A further fragment from a comparable carpet, was sold in The V. and L. Bengurat Private Collection of Rare old Rugs, New York, 4 and 5 December 1925, pl.17.
The British Ambassador moved residences in 1973 when much of the contents of the house was sold at auction. The small material insignia of George V that os applied to the reverse of the carpet, was applied to various items of furniture, silver and crockery belonging to the British High Commission.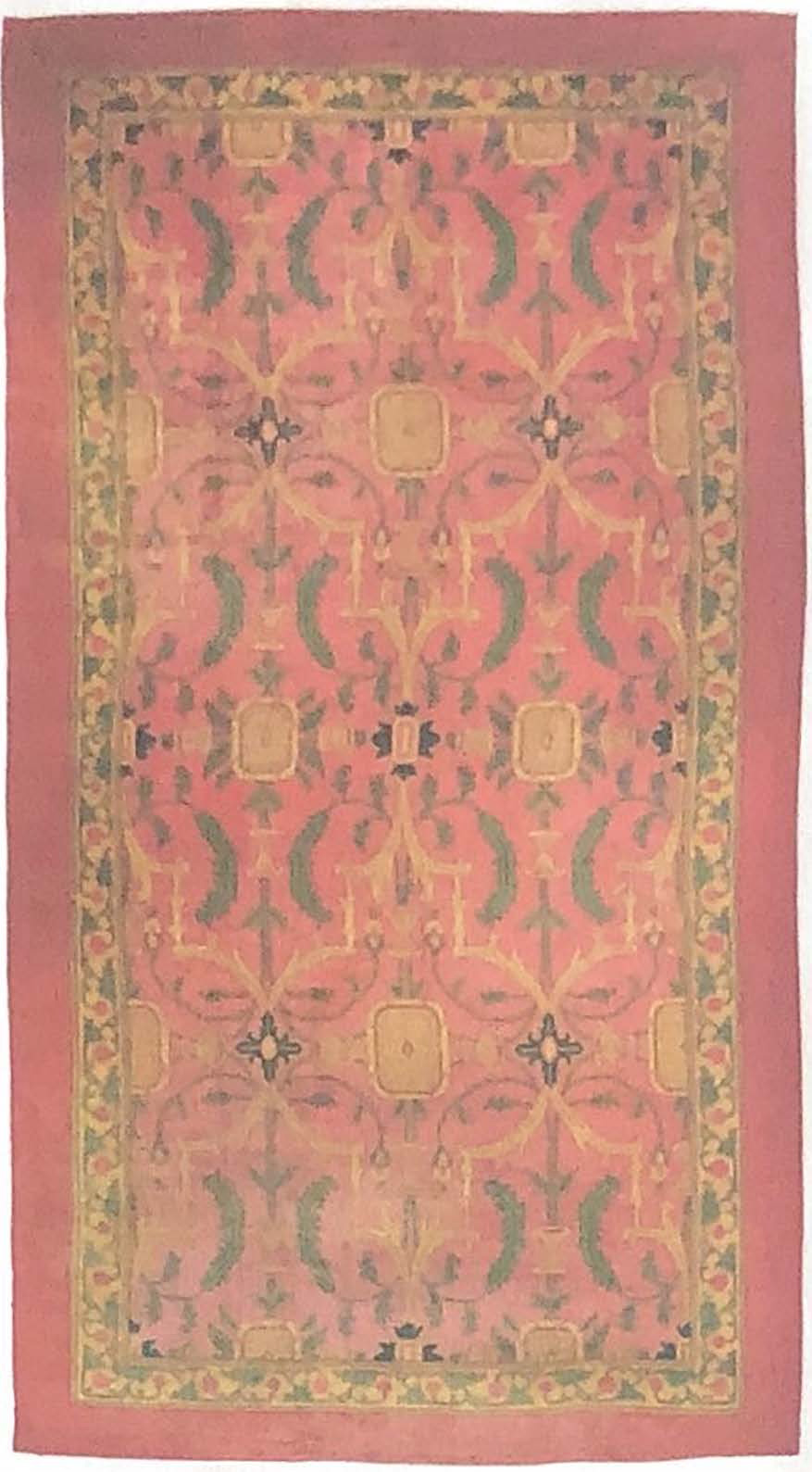 A LARGE DONEGAL CARPET
KILLYBEGS, IRELAND, PROBABLY ATTRIBUTABLE TO ALEXANDER MORTON, LATE 19TH CENTURY
Of Mughal design. overall in very good condition
25ft.4in. x 14ft.1in. (772cm. x 428cm.)
£30.000 – 40.000 | US$33.000 – 43.000 | €34.000 – 45.000
British High Commission, Pretoria, South Africa until 1973
Volks Auctioneers. Pretoria, 1973
Volks Auctioneers, Pretoria, 2010, from where purchased by the present
owner